Manufacturing Engineering Co-op Internship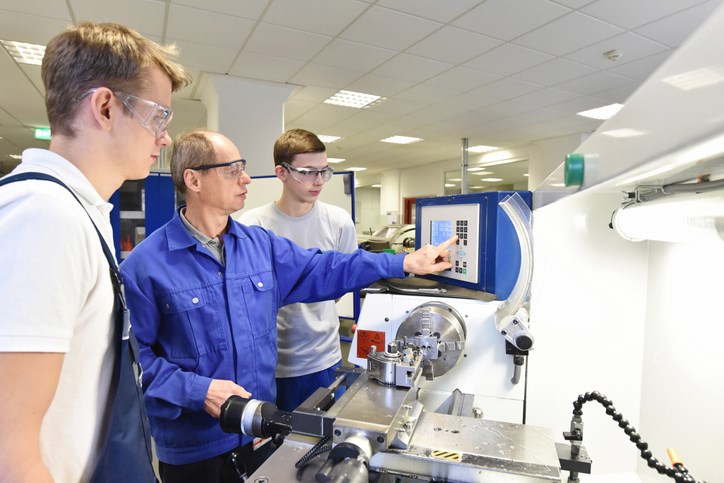 If you've been searching for manufacturing engineering jobs, Thogus is an excellent place to stop your search. We are an established injection molding company whose core values are:
Passion
Honesty
Integrity
Mutual respect
The use of cutting-edge technology
Thogus offers an excellent workplace culture and a valuable career in manufacturing engineering. The benefits of investing in a manufacturing engineering career at Thogus includes:
Job stability
Three work shifts, aiding in job flexibility
Continuing education
High wages
Leadership experience
Competitive and comprehensive benefits packages
401(k) with employer match
The opportunity to work in an innovative and groundbreaking industry
Climate controlled work environment
A transportation program with affordable ridesharing platforms to ensure our employees make it back and forth to work
Being in the right internship program lays the foundation for a fruitful life. We offer a full-time internship in manufacturing engineering to set interns up for a lifetime of success.
Here is a look at what a manufacturing engineer is and the core responsibilities of a manufacturing engineer. We'll also detail some of the many advantages an intern will gain from participating in our program.
What is a Manufacturing Engineer?
A manufacturing engineer designs and oversees manufacturing operations for a product. A manufacturing engineer creates a manufacturing process that converts a raw material into a component or finished good with a focus on efficiency and profitability. In this case, it would be the plastic used for the plastic injection molding process. A manufacturing engineer also ensures industrial safety and product quality. A bachelor's degree in engineering or a related field is necessary to become a manufacturing engineer.
What Does a Manufacturer Engineer Do?
A manufacturing engineering job involves collaborating with industrial and commercial designers to oversee the design and development, and refinement of products to:
Decrease costs
Enhance quality
Increase production efficiency
Manufacturing engineers strive to enhance manufacturing systems and other related processes.
The core responsibilities of a manufacturing engineer might include:
Using methodical reasoning and software to design manufacturing processes
Troubleshooting and testing products, analyzing the results, and making the appropriate adjustments
Investigating and resolving operational issues
Identifying possibilities and making changes to enhance the manufacturing process
Reducing costs utilizing knowledge of quality control standards, fabrication processes, product design, tooling, and production
Overseeing product production to ensure the final product is of the highest quality
Applying ongoing improvement methods such as lean manufacturing to enhance manufacturing quality, cost-effectiveness, and reliability
Collaborating with the manufacturing team to ensure their tools, equipment, and training processes are adequate to meet and exceed customer needs.
Establishing, documenting, and communicating a production process including work instructions and training aides
Creating models and designs using CAD software
Testing and troubleshooting products to identify any design or production issues
What Thogus' Co-op Internship Offers
An internship program helps you gain hands-on experience and discover if a career path is right for you. Interns refine their skillsets, join a network of like-minded professionals, build confidence, and secure permanent job positions.
In the Thogus' Co-op internship, you'll:
Participate in the program full-time for 12–26 weeks
Working with the Technical Teams – Engineering, Tooling, Maintenance, and Quality Assurance.
Gain a basic understanding of injection molding, plastic materials, and general engineering concepts.
Be a part of an introduction to production manufacturing, lean manufacturing concepts, and industrial safety.
Develop teamwork, problem-solving, and communication skills.
Utilize classroom theory in real-world applications to support the business needs of Thogus Products.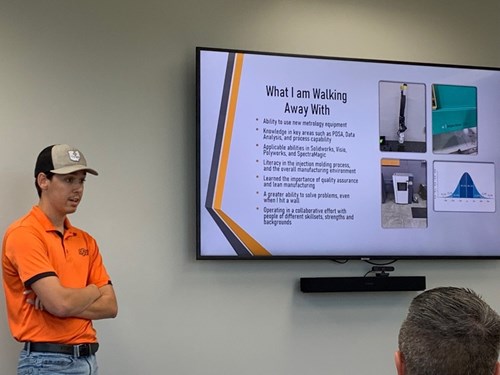 Additional Manufacturing Skills That Interns Gain
Every intern that participates in our internship program will walk away with:
 The ability to use new equipment.
Knowledge in key areas such as PSDA, data analysis, and process capability
An applicable introduction to CAD software such as Solidworks, Visio, Polyworks, and AutoCAD.
Literacy in the injection molding process and the overall manufacturing environment
The knowledge of quality assurance and lean manufacturing
A more proficient aptitude for problem-solving, even in the most challenging scenarios
The opportunity to collaborate with people that have different skillsets, strengths, and backgrounds
How to Know if a Manufacturing Engineering Career is for You
Core considerations in deciding if a career as a manufacturing engineer is right for you include:
Enjoying problem-solving
 Being proficient in math and science
 Taking innovative or new approaches to work tasks as necessary
Having proficient computer skills and overall technical skills
Working in a career field that challenges the mind
Extraordinary attention to detail
Contact our team today if these considerations resonate with you and you're ready to take your career to the next level. Also, we suggest you check out our careers page and explore the benefits of working for Thogus.