Join the Thogus Team
At Thogus, we're the best because we work with the best.
Our team is looking for motivated, innovative thinkers to help us change the face of manufacturing. But it's so much more than that.
We are a Destination for Employment.
People who work here want to work here, and they stay for a long time. That's because we genuinely care about our employees and everyone believes in their work and strives for common goals. Better than that, you're one of us. Our team. And we've always got your back. 
We offer 12 paid holidays off, including your birthday – because of course your birthday is a holiday and should be celebrated. 
Our insurance benefits are competitive, because health is a priority for all of us.
Prepare yourself for a comfortable retirement with a 401(k) with matching contributions.
We recognize team members who go above and beyond with our Monthly Shout Out program, giving credit where credit is due and celebrating wins. 
We hire the best on purpose; knowing they will have a lot of great ideas and opinions. We want all of our team members to have a say in what goes on, including process improvements, business strategies and other ideas. This gives us an opportunity to openly discuss improvement areas and celebrate achievements in a personal setting.
Interested in learning more about our opportunities? We regularly attend job fairs and would be happy to chat there, or you can apply for open positions below.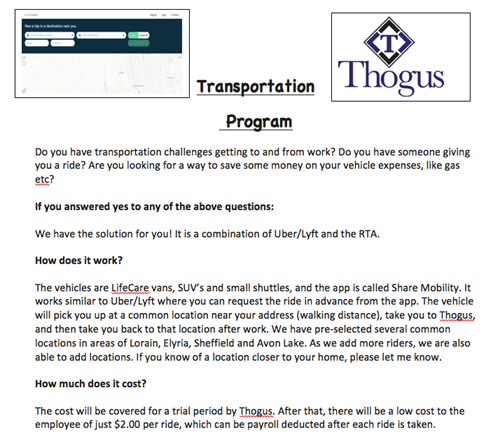 Current Job Openings
Inspection Operator - 2nd & 3rd Shifts

The Inspection Operator inspects and handles finished goods (plastic parts from an injection molding press or at an offline secondary assembly) and prepares them to be shipped to the customer. This individual is expected to perform job responsibilities according to the company's core values.

Shipping & Receiving Clerk

This position is responsible to complete daily shipments according to the defined customer requirements / procedures, as well as daily incoming receiving to the defined process and procedures at both the main building and the Thogus warehouse location. In addition, this position is to maintain spot checks for inventory including locations, space and accuracy at both warehouses. This position also performs bagging, assembly and production tasks as needed.

This individual is expected to perform job responsibilities according to the company's core values.

Manufacturing Engineer

The Manufacturing Engineer is responsible for supporting manufacturing operations by establishing robust processes, applying advanced problem-solving skills and troubleshooting critical problems, especially those related to injection molding. The Manufacturing Engineer will provide professional guidance in areas of risk assessment, process improvement, and lean manufacturing principles. This role will provide both technical guidance as well as hands-on support for the injection molding process. The Manufacturing Engineer will participate in root cause-corrective action investigations, manufacturing cell design, automation troubleshooting, tooling design and repair, process troubleshooting, and assembly of components. The Manufacturing Engineer will take the lead on training and developing for other technical team members related to manufacturing operations and technical support functions. This role will take the lead on improvements to production processes, cycle times, methods and controls and help with implementation. This position reports directly to the Director of Engineering and Quality and works cross functionally with the following areas: Other Engineering team members on topics related to tooling and tool maintenance, equipment, automation and assembly; Program Development team members to coordinate manufacturing launch for new or revised products; Quality Assurance team members to ensure product specifications are being met; Production team members responsible for executing manufacturing processes; Changeover team members responsible for injection molding process support; Maintenance team members for the implementation, maintenance, and repair of manufacturing equipment. The Manufacturing Engineer must also organize which projects should be tackled first based on their importance by working with the Director of Engineering & Quality, along with other technical team members.