Custom Injection Molding
Manufacturing by Design
Plastic injection molding is the most common and versatile method of manufacturing plastic parts of all shapes and sizes. Our Manufacturing by Design process guides clients through material selection, plastic part design for injection molding, systems optimization and proper tooling solutions, and the overall injection molding process to ensure manufacturing success. With 35+ plastic injection molding machines, robots on every press, and various levels of automation, we have the technology, capacity, and experience to successfully run medium-to-high volume programs.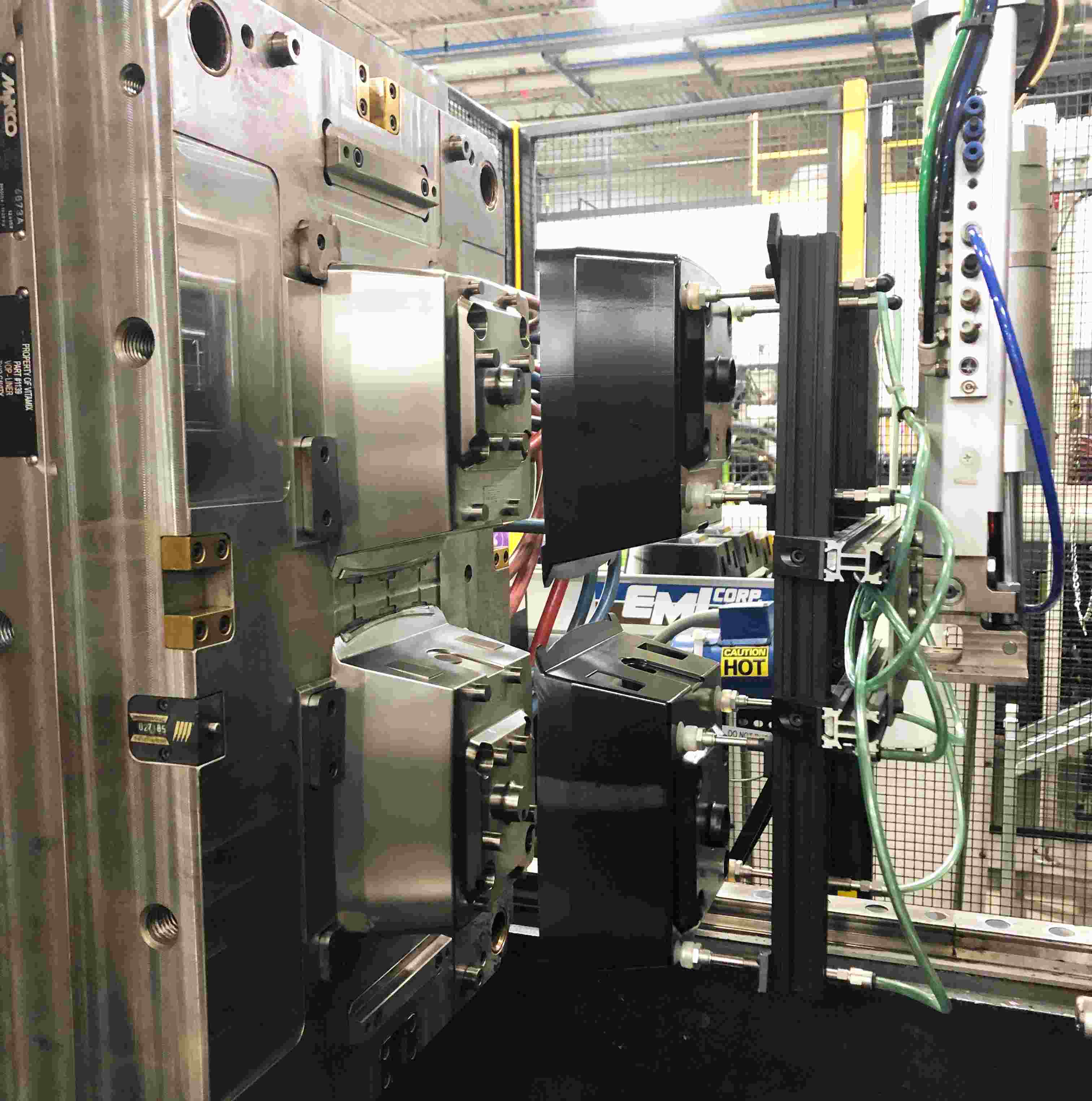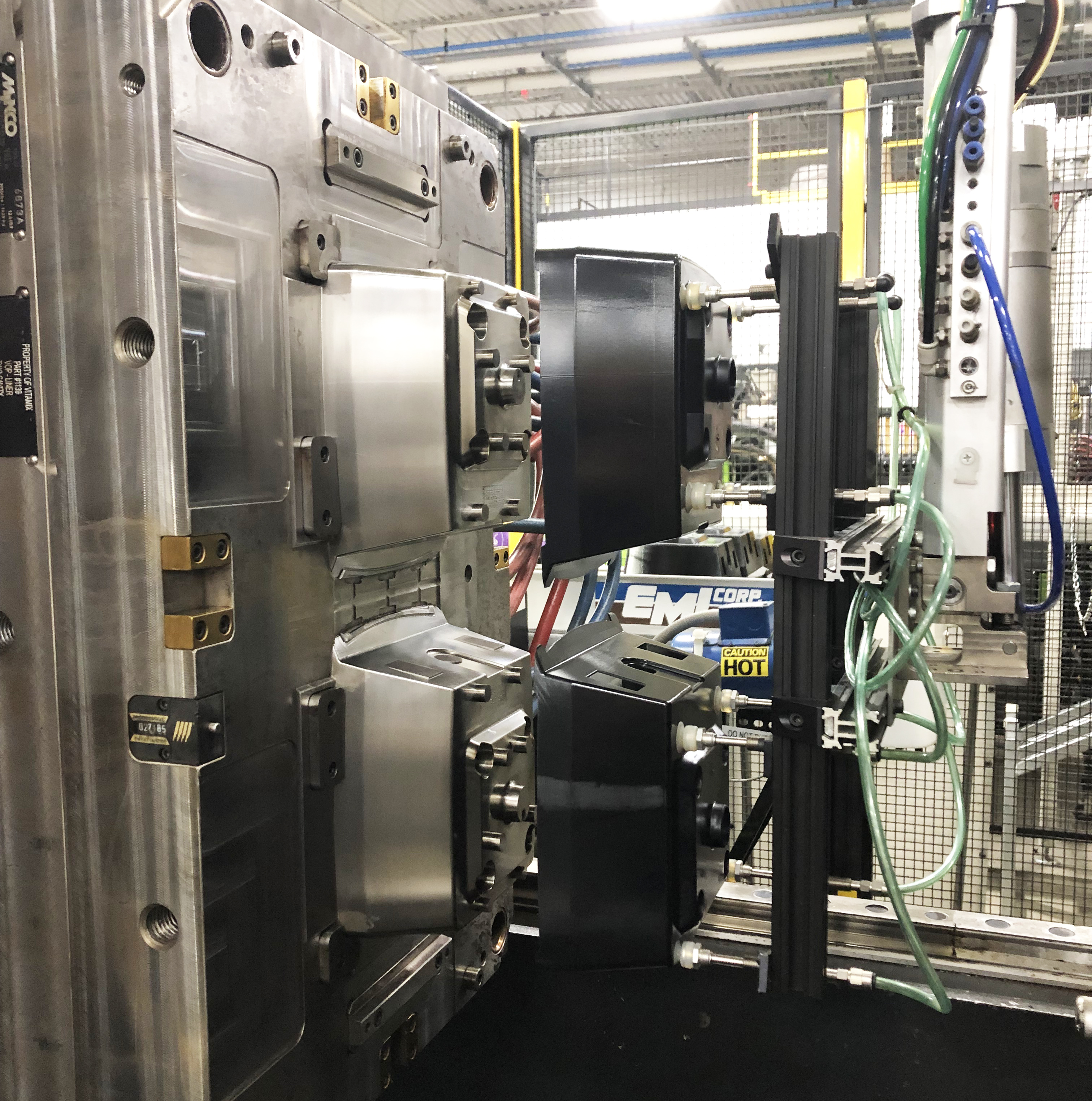 Custom Injection Molding Capabilities
Insert molding, sometimes called overmolding, is the process adding an additional layer of plastic over an already existing part. This process is ideal for adding texture, color, and/or incorporating necessary functionality components to a product.
Two-shot molding, sometimes referred to as double-shot molding or multi-shot molding, is a process where one material is injected into a mold to make the initial section of the product, followed by a second, or even a third injection of different materials that are compatible with the original material. Double shot molding is ideal for multi-material and multi-colored plastic products.
GAS-ASSIST INJECTION MOLDING
The gas-assist injection molding process forces a shot of plastic material to fill a mold by using pressurized nitrogen gas to displace the material This process is ideal for large plastic parts with complex designs and high-quality cosmetic finishes, such as large handles, equipment covers, doors, bezels, and cabinets.
The Injection Molding Process
HOW DOES PLASTIC INJECTION MOLDING WORK?
In order to get a plastic part injected molded, some initial setup is required. First, you'll need to first submit a three-dimensional (3D) computer-aided design (CAD) model of the part to an injection molding company like Thogus. Here, the mold (tooling) will be made and fitted into an injection molding machine to make the parts.
Now, the plastic injection molding process can begin:
The plastic injection molding process starts with the raw resin material in the pellet form. The resin is gravity-fed through a hopper into a barrel, where it is heated to a molten state.
The material is forced out of the barrel under very high pressure through a hole in the mold (sprue hole), down a channel (runner), through the gate, and injected into the cavity.
The part cools and hardens to the shape of the mold cavity.
The mold opens and the part is ejected.
Advantages of Custom Injection Molding
Custom plastic injection molding is one of the most preferred methods for manufacturing plastic parts due to its many advantages over other methods. Not only is the process simpler and more reliable, but it is also extremely efficient. Some more advantages include:
Precision for complex geometries and detailed parts
Fast production output rate
Enhanced strength and durability
Repeatability for product and part consistency
The flexibility of color, material selection, and finishes
Simultaneous use of different plastics
Automation to save labor and manufacturing costs
Thogus's capabilities go beyond plastic injection molding. When your project requires a complete supply chain solution, our secondary operations are there to fine-tune your product post-production. Some of our secondary operations include:
Annealing Plastic
Moisture Conditioning
Fixturing
Threaded Inserts
Ultrasonic Welding Plastic
Mechanical Assembly
Product Painting
Pad Printing
Plating
Hydro Dipping
Applications of Custom Injection Molding
As an experienced plastic injection molding company, we take pride in working alongside our clients to develop cost-effective manufacturing solutions in a range of industries, including:
Our goal is to keep your custom injection molding project on schedule and headache-free. As an ISO 9001:2015 certified company, we prioritize quality and efficiency and maintain compliance with all regulatory requirements. Our ERP system manages and syncs all operational processes to keep everyone on the same page and on schedule.
We maintain an environmentally controlled, safety-focused facility, with a Class 7 cleanroom and we invest in new equipment to keep everything running smoothly. Our robust systems and processes allow us to ship the product you need, where you need it (to distribution centers, to end-users, and everywhere in between), when you need it. Kanban and other inventory management systems combined with 24/7 operations allow us to offer just-in-time deliveries.