From garden hose caps to garden hose adapters, our garden hose assemblies are available in a broad range of materials and sizes.
Our garden hose fitting line is often customized for large volume and specialty applications, without the need for customers to build their own tool. Watertight, secure and reliable—these fittings will ensure your project goes smoothly.
To learn more email fittings@thogus.com.
Thogus Warranty: Thogus does not warrant the suitability of any raw material or any fitting for any specific purpose or application We highly recommend customer testing be performed to verify the material and fitting qualifies for their specific applications. Whenever possible, hose clamps are recommended. Upon request, material specification data sheets are provided.
Garden Hose Thread Adapter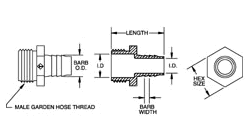 Available Materials: Part No. Suffix N, PPB;
Garden Hose Adapter Inserts
Available Materials: Part No. Suffix: N, PPB Note: Mating Part GHN12;
Garden Hose Adapters-Pipe Thread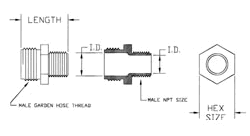 Available Materials: Part No. Suffix: N, PP;
Garden Hose Adapter Assemblies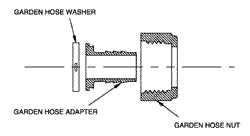 Available Materials: Part No. Suffix: N, PPB Note: Assemblies include nut, insert & washer;
| FGHT X Hose I.D. | Part No: |
| --- | --- |
| 3/4 to 5/32 | GHNA532 |
| 3/4 to 3/16 | GHNA3 |
| 3/4 to 1/4 | GHNA4 |
| 3/4 to 3/8 | GHNA6 |
| 3/4 to 1/2 | GHNA8 |
| 3/4 to 5/8 | GHNA10 |
| 3/4 to 11/16 | GHNA11 |
| 3/4 to 3/4 | GHNA12 |
Garden Hose Cap Assembly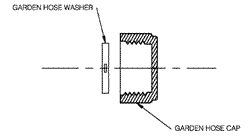 Available Materials: Part No. Suffix: N, PPB;
| Description Part | Part No: |
| --- | --- |
| 3/4 FGHT Cap | GHC12WA w/Installed Washer |
Garden Hose Nut Assembly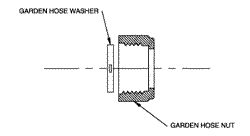 Available Materials: Part No. Suffix: N, P;
| Description Part | Part No: |
| --- | --- |
| 3/4 FGHT Nut | GHN12WA w/Installed Washer |
Garden Hose Washer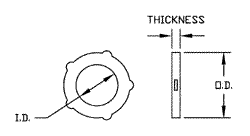 Available Materials: Uniprene;
| Description | Part No: |
| --- | --- |
| 3/4 Garden Hose Washer | GHW12 |