Thogus is known throughout the industry for manufacturing outstanding fittings.
Our NPT threaded and barbed tees offer strength and durability, and are available in a variety of materials.
To learn more email fittings@thogus.com.
Thogus Warranty: Thogus does not warrant the suitability of any raw material or any fitting for any specific purpose or application We highly recommend customer testing be performed to verify the material and fitting qualifies for their specific applications. Whenever possible, hose clamps are recommended. Upon request, material specification data sheets are provided.
| NPT X Hose I.D. | Part No: |
| --- | --- |
| 1/8 X 3/16 X 3/16 | TT3233 N P PP |
| 1/8 X 1/4 X 1/4 | TT3244 PDF |
| 1/4 X 3/16 X 3/16 | TT3433 N P PP |
| 1/4 X 1/4 X 1/4 | TT3444 N P PP |
| 1/4 X 3/8 X 3/8 | TT3466 PDF |
| 1/4" X 1/2" X 1/2" | TT3488 PDF |
| 3/8 X 1/4 X 1/4 | TT3644 PDF |
| 3/8 X 3/8 X 3/8 | TT3666 PDF |
| 3/8 X 1/2 X 1/2 | TT3688 PDF |
| 1/2" X 3/8" X 3/8" | TT3866 PDF |
| 1/2 X 1/2 X 1/2 | TT3888 PDF |
| 1/2" X 1" X 1" | TT381616 PDF |
| 3/4" X 3/4" X 3/4" | TT3121212 PDF |
| 3/4" X 1" X 1" | TT3121616 PDF |
| 1" X 1" X 1" | TT3161616 PDF |
Tees - (barbed on all sides)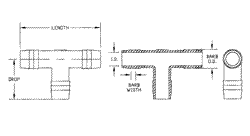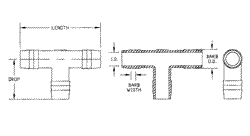 Available Materials: Part No. Suffix: P, N, PPB, PPN(1-1/4), 1-1/2) ;
---
Note: Fittings over 1" not offered in polyethylene;
| Hose I.D. | Part No: |
| --- | --- |
| 1/8 X 1/8 X 1/8 | TT9222 N P PP |
| 5/32 X 5/32 X 5/32 | TT9156 N P PP |
| 3/16 X 3/16 X 3/16 | TT9187 N P PP |
| 3/16 X 3/16 X 3/16 | TT9333 N P PP |
| 3/16 X 3/8 X 3/8 | TT9366 N P PP |
| 1/4 X 1/4 X 1/4 | TT9444 N P PP |
| 1/4 X 5/16 X 5/16 | TT9455 PDF |
| 1/4 X 3/8 X 3/8 | TT9466 N P PP |
| 1/4 X 1/2 X 1/2 | TT9488 N P PP |
| 1/4 X 5/8 X 5/8 | TT941010 PDF |
| 5/16 X 5/16 X 5/16 | TT9555 N P PP |
| 5/16 X 1/2 X 1/2 | TT9588 N P PP |
| 5/16 X 5/8 X 5/8 | TT951010 N PP |
| 3/8 X 1/4 X 1/4 | TT9644 N P |
| 3/8 X 3/8 X 3/8 | TT9666 N P PP |
| 3/8 X 1/2 X 1/2 | TT9688 N P PP |
| 3/8 X 5/8 X 5/8 | TT961010 N P PP |
| 3/8 X 3/4 X 3/4 | TT961212 N P PP |
| 1/2 X 3/8 X 3/8 | TT9866 PDF |
| 1/2 X 1/2 X 1/2 | TT9888 N P PP |
| 1/2 X 5/8 X 5/8 | TT981010 N P PP |
| 1/2 X 3/4 X 3/4 | TT981212 PDF |
| 5/8 X 5/8 X 5/8 | TT9101010 N P PP |
| 3/4 X 3/4 X 3/4 | TT9121212 N P PP |
| 1 X 1 X 1 | TT9161616 N P PP |
| 1-1/4 X 1-1/4 X 1-1/4 | TT9202020 PDF |
| 1-1/2 X 1-1/2 X 1-1/2 | TT9242424 N |